Recycling Program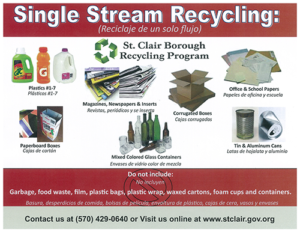 The Borough of St. Clair will operate a single stream recycling program.
THE FOLLOWING MAY BE MIXED TOGETHER.
• Paper Board, Boxes
• Mixed Colored Glass Containers
• Tin and Aluminum Cans,
• Plastics #1 through #7
• Magazines
• Newspapers & Inserts
• Corrugated Boxes
• Office and School Paper
These items can be placed in the blue recycling 25-gallon container provided to you, and additional recycling material can be placed in another container of your choosing, and placed at curbside on the date of your recycling collection day. Recyclable material placed at curbside is the property of the Borough of St. Clair. ITEMS SHOULD BE CLEANED; CANS AND BOTTLES SHOULD BE RINSED.
DO NOT RECYCLE THE FOLLOWING:
• Garbage
• Food Waste
• Film
• Plastic Bags
• Plastic Wrap
• Waxed cartons
• Foam Cups and Containers
Sanitation and Recycling Collection Schedule
Your collection schedule days will remain the same. However, the first collection of the week will be sanitation pickup; the second pickup will be for recycling only. **No sanitation service will be provided on recycling collection days.
Sanitation Service will be provided once a week with a 6-30 gallon bag limit. A bag cannot weigh more than 40-pounds. The bags must be placed in secure containers. Neither garbage cans nor recycling cans can be placed at curbside no earlier than 5:00 p.m the preceding night.
As a reminder, garbage cannot be brought into town from another municipality. Violators will be prosecuted.
Large Item Collection Program
In lieu of the traditional clean up week, the Large Item Collection Program will now be implemented. On the third Wednesday of the month the large items will be collected. Some months the collection date may vary so be sure to check the advertised dates in the Newsletter. The large Items will be collected for a fee of $5.00. Place an envelope containing a check, name, address and phone number where the large item is to be collected. Place the envelope in the drop off box in front of the Municipal Building. Please no cash.  Collections will be assigned based upon the addresses listed.
Exclusions – No tires, batteries, refrigerators or construction material will be collected. Wood bundles must be tied and no longer than five feet in length.
Program Limitations – The program is for St. Clair Borough sanitation customers only. No material from outside the Borough is allowed. Violators will be prosecuted.